Hit Movie Shadowlands Tells Love Story of C.S. Lewis and Joy Gresham
[Published in The Pipe Smoker's Ephemeris, Winter-Spring 1994]

By Henry Zecher

There is a new love story out on film this year, and it is taking critics and viewers by storm. The film is Shadowlands, a remake of both the 1985 BBC-TV film (starring Joss Ackland and Claire Bloom) and the popular stage play, and it brings back to life both the world and the love story of Joy Gresham and Clive Staples (C.S.) Lewis.
The movie's title comes from Lewis's oft-quoted reference to this life as being mere shadows, or shadowlands, with the real life yet to come. But, while we all know him as the great writer and amateur theologian, few know him as a confirmed old bachelor-turned-lover. Yet it is in that endearing role that he is now charming a new generation of viewers, this time in the performance by Academy Award-winner Anthony Hopkins, who made the leap from Hannibal Lector to C.S. Lewis with stunning affect. Joy Gresham is portrayed by Debra Winger with the same kind of brilliance and directness the real Gresham was known for. And Lewis's brother Warnie is portrayed by Edward Hardwicke, perhaps better known to many for his role as Dr. Watson alongside Jeremy Brett's Sherlock Holmes.
Shadowlands takes us back to England's Oxford University in the year 1952. It was here that this international literary giant had reigned for the past 12 years as the world's leading thinker, writer, and explainer of the Christian faith. He was also a confirmed bachelor living with his brother, Warren, in their rambling brick house, "the Kilns," at Headington, near Oxford. When Joy arrived, "Jack," as his friends called him, found his world begin to turn upside down.
C.S. Lewis was a tutor and lecturer in medieval and renaissance literature at Oxford University, as well as being a well-known critic and author, and a charming and witty man of letters. As a proclaimer of the faith, he brought a clarity of thought and a breadth of imagination to Christian apologetic that has never been equaled, before or since. For no fewer than seven decades he has ruled the Christian literary world, and to this day books are written, sermons preached, and doctrines upheld on the rock of this man's thinking.
By all accounts a majestic speaker, he delivered his lectures on campus with great gusto in a loud, deep, booming voice. He quoted medieval texts in their original tongues, complete with translations, and it was obvious he had read the books he taught from, enjoyed most of them, and wished his pupils to enjoy them as well. And, Time Magazine noted, "His lectures are an Oxford rarity: they are jampacked. It was his voice, rather than his writings, that catapulted him into the public arena during the war when Lewis made 29 religious broadcasts over the BBC to an average audience of 600,000 listeners. England was said to have rejected Christianity, he was told, but he reasoned that England could hardly reject what it did not understand. He also occasionally preached at Oxford's St. Mary's Church. Years later, taped radio addresses on The Four Loves were broadcast in the United States."
He began writing seriously in the 1930s. His great study of medieval tradition, The Allegory of Love, placed him among the top literary scholars of his time. He wrote a penetrating analysis of 16th century literature which became Volume III of The Oxford History of English Literature. He was even guilty of a small monograph on The Literary Impact of the Authorized Version.
His Space Trilogy, appearing before the war, remained favorite reading for many years, but it was The Screwtape Letters, published in 1941, that made him an international celebrity and became his most famous book. It was uncommonly original in that it presented temptation and sin from the devil's point of view, outlining his strategies and his objectives in a series of Chesterfieldian letters from a chief tempter, Screwtape, to a novice tempter, Wormwood, concerning Wormwood's handling of his "patient," a young English gentleman who is never named. From Screwtape's perspective, this patient backslid from his fallen state into religion, was rescued from the grip of the Enemy by living among clever and worldly agnostics, regained his faith, performed heroically during the London Blitz, and was then released into eternity by a bomb. Screwtape has sold millions of copies over the years and has become a classic in Christian literature.
Lewis tackled one of life's most perplexing questions in The Problem of Pain, and made one of his most profound observations: "God whispers to us in our pleasures, speaks in our conscience, but shouts in our pains: it is his megaphone to rouse a deaf world." In Miracles, he showed his Biblically-based beliefs by alternately upholding miracles as exceptions to God's natural law and then shooting down such secular myths as Joseph accepting the idea of a virgin birth because he didn't know where babies come from. Lewis's point was that, while Joseph may not have known as much as a modern gynecologist knows, he certainly knew that, when a man and a woman come together, a baby usually follows.
His last great work, A Grief Observed, was a diary he kept of his awful grief following Joy's death from the cancer in 1960.
But Lewis's greatest achievement, the magnum opus of his literary career, was Mere Christianity, arising from his wartime BBC radio broadcasts. This book is the clearest, simplest explanation of the Christian faith ever written, and has influenced millions of readers, including Charles Colson, former top aide to President Richard Nixon, later founder of Prison Fellowship and now one of the world's great Christian intellects. Colson was searching for God during the Watergate turmoil and read Mere Christianity. Colson had contemplated God subjectively, at times of great emotion ~ whether joy or fear ~ and figured that Lewis probably approached God the same way. Then Colson opened the book "and found myself instead face-to-face with an intellect so disciplined, so lucid, so relentlessly logical that I could only be grateful I had never faced him in a court of law."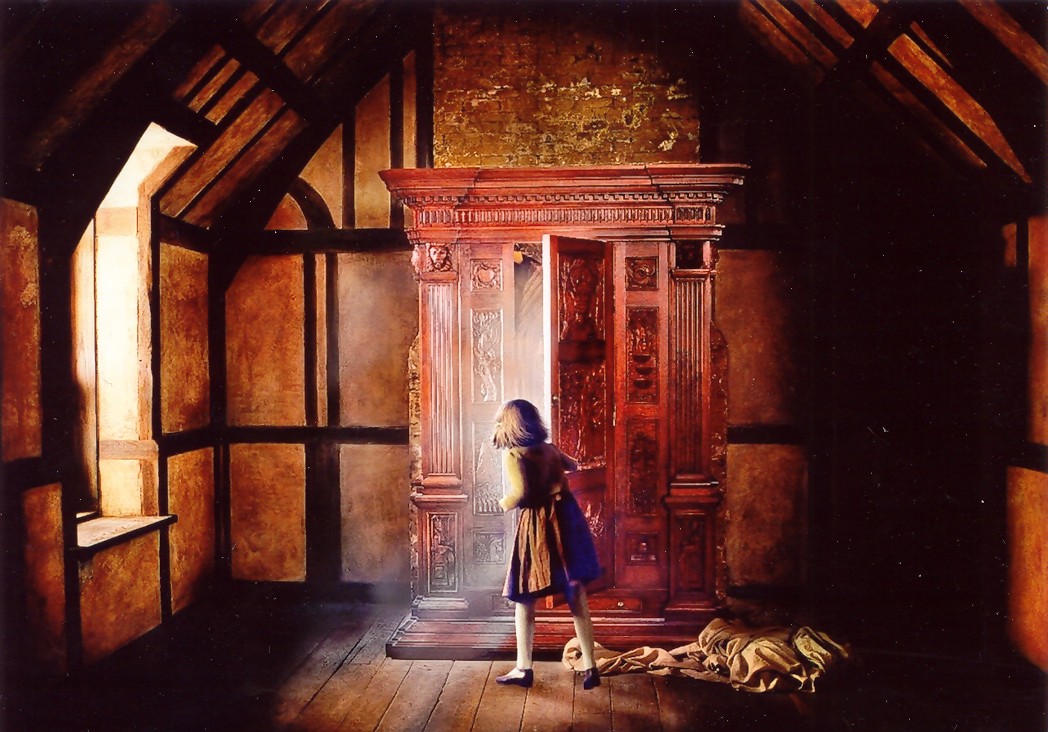 Far and away, however, Lewis charmed us most with his children's stories, The Chronicles of Narnia, which showed how Jesus might have appeared had He come to save another world different from our own. These, Lewis said, were the type of stories he would have liked to read as a boy, and they were, in the words of biographer Walter Hooper, "the unexpected creation of his middle age, and seemed to be his greatest claim to immortality, setting him high in that particular branch of literature in which few attain more than a transitory or an esoteric fame."
The Chronicles also opened up a vast new audience for Lewis. Where he had previously been read by, and corresponded with, adult readers all over the world, including some of the leading intellectuals, he suddenly found mail coming from the hands of children, most of them in Britain and America. And this man, who felt it his calling to answer all correspondence personally, took the time and trouble to write to each child as well. Never condescending, Lewis regarded children as young adults and treated them in just that manner. Thus, when one child asked him how he drew cats, he drew cats, admitting as he did so that he was cheating by drawing them from the back, since the front is much more difficult. When a child would find the connection between the Narnia stories and the Gospels, Lewis always congratulated the child and added that children usually saw the parallel while adults seldom did.
Lewis had already been recognized as the leading Christian spokesman in the English-speaking world when his picture appeared on the September 8, 1947, cover of Time, with a full-length feature article within. "Lewis (like T.S. Eliot, W.H. Auden, et al.) is one of a growing band of heretics among modern intellectuals: an intellectual who believes in God," the article noted. It is not a mild and vague belief, for he accepts 'all the articles of the Christian faith..."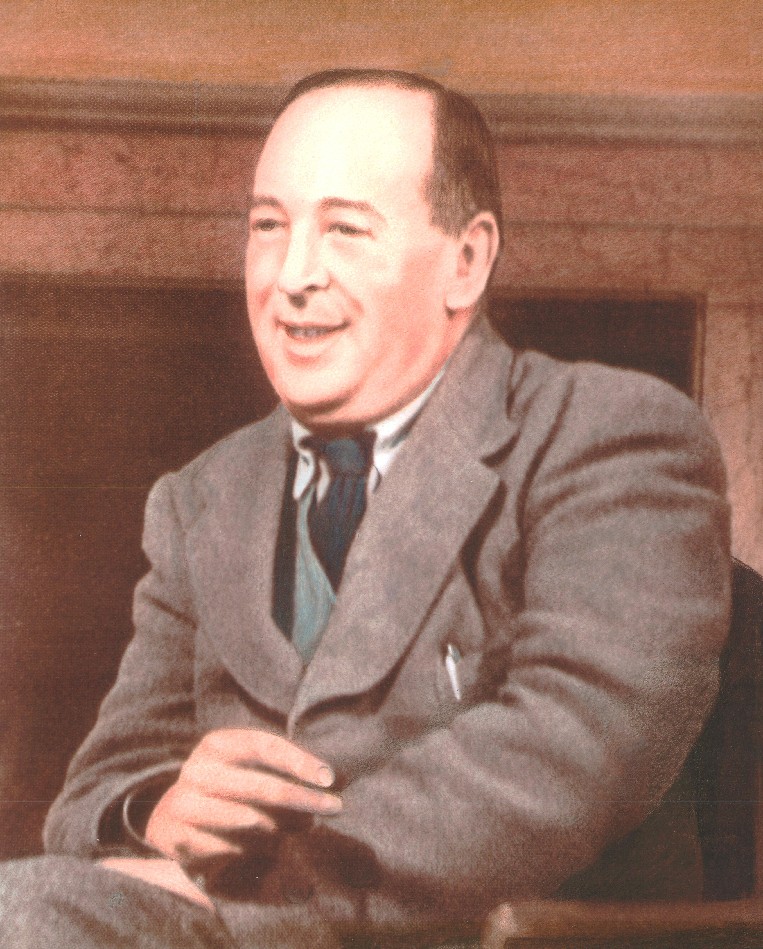 The "Apostle to the Skeptics," as Chad Walsh called him, was a most entertaining and amusing fellow. He had a large red countryman's face and wore shabby clothes; give him a brand new suit and it would look slept in the first time he put it on. This gave him the appearance more of a prosperous butcher than a university professor and widely-read author.
"I had never so much as seen a photograph of him," Sheldon Vanauken wrote, "and in reading his books and letters I had vaguely pictured him as slender, perhaps somewhat emaciated, and slightly stooped with a lean, near-sighted face. What I met...was John Bull himself. Portly, jolly, a wonderful grin, a big voice, a quizzical gaze ~ and no nonsense. He was as simple and unaffected as a man could be, yet never was there a man who could so swiftly cut through anything that even approached fuzzy thinking. Withal, the most friendly, the most genial of companions."
He was never vain, wishing for the day when all his hair would fall out so that he would not have to mess with it. In keeping copies of books, including his own, he never went for first editions or handsomely bound volumes. Any old paperback copy would do. When asked if he preferred to be called "Doctor" or "Mister," he replied that he not only didn't care what people called him, he usually never noticed.
Always concerned about those in need, he and Warnie regularly took into the Kilns people who needed care and a place to stay, particularly during the war. Deathly afraid of poverty, he nevertheless set up his Agape Fund from his book royalties for channeling his money to help the poor and needy. One woman in America, whom Lewis never met, lived the last three decades of her life off a stipend Lewis established from those royalties.
Smoking among Christians is, even today in Europe, quite common and not particularly frowned upon. In Lewis's day, even such prominent Christian leaders as Dietrich Bonhoeffer in Germany and Peter Marshall in America smoked. Lewis usually smoked a pipe, and photographs from his youth to his old age show him with his pipes. He also smoked cigarettes; but, as he informed a child in America, "Tell Nicky I don't smoke cigars."
Though certainly temperate in his conduct, he also enjoyed beer, wine and other strong drinks. This, too, was and still is far more common among European Christians than it is among Christians in America, where fundamentalist readers often took him to task for smoking and drinking. Lewis never tolerated such criticism, pointing out that Hinduism, not Christianity, was the teatotal religion, that the Lord made wine and drank it, and that such legalistic thinking was, as he told one correspondent, "so provincial (what I believe you people call 'small town')."
Curiously, while defending temperate drinking, he was far less defensive about smoking, telling one American lady correspondent in 1956, "Smoking is much harder to justify. I'd like to give it up but I'd find this v(ery) hard, i.e. I can abstain, but I can't concentrate on anything else while abstaining ~ not smoking is a whole time job."
Lewis was one of those rare Christian figures who remained totally out of religious controversy, and was accepted equally by Protestants and Roman Catholics alike because he put forth straightforward, simple, "mere" Christianity, the Christian beliefs common to most Christians at all times. Though Anglican himself, he accepted into his fellowship all Christian faiths who professed Jesus Christ as the, Son of God, and when it was time to part he liked to remind his friends that,"Christians never say good-bye."
A man of scintillating wit, Lewis wrote to a correspondent: "Would you believe it; an American school girl has been expelled from her school for having in her possession a copy of my Screwtape. I asked my informant whether it was a Communist school, or a Fundamentalist school, or an RC (Roman Catholic) school, and got the shattering answer, 'No, it was a select school.' That puts a chap in his place, doesn't it?"
To a child in America he wrote, "I never knew a guinea-pig that took any notice of humans (they take plenty of one another). Of those small animals I think hamsters are the most amusing–, and, to tell you the truth, I'm still fond of mice. But the guinea-pigs go well with your learning German. If they talked, I'm sure that is the language they'd speak."
Such humor in the Lewis household was by no means restricted to the lord of the manor. One summer morning when Lewis was writing at his desk by the open window, Snip (one of his wife's cats) took a great spring from outside and shot in through the window. She landed with a great thump on top of his desk, scattering papers in all directions, and skidded to a halt in his lap. He looked down at her in amazement. She looked up at him in amazement. "Perhaps," he told Walter Hooper, "my step-cat, having finished her acrobatics, would like a saucer of milk in the kitchen." Hooper opened the door for poor Snip and she walked slowly out, embarrassed, but with the best grace she could manage.
The world of C.S. Lewis was one rich in academic achievement, friendships and university traditions, but it was decidedly limited in its scope, as the movie amply demonstrated. In 1952 that entire existence was shattered by the arrival of an American woman named Joy Gresham and her sons, Douglas and David. Joy was a Jew converted to Christianity through Lewis' writings. She had been a communist and an agnostic, as well as an accomplished poet. Now she was leaving behind her an alcoholic, violent and chronically adulterous husband who now lived with and wished to marry another woman. A divorce would soon be under way.
Although the real Joy Gresham had two sons, not one as this film suggests, the rest of the story is pretty truthfully told: a growing friendship, a civil marriage arranged solely for her to remain in England, and the joke that, while his friends all thought they were not married and up to sinful mischief, they were actually married and up to none. But their love grew; and, after Joy was stricken with cancer and lay on her deathbed, Lewis finally asked her to marry "this foolish, frightened old man who needs you more than he can say, and who loves you even though he hardly knows how?" Joy looked up at him from her deathbed and said, "OK, just this once."
What the movie does not relate is that Lewis had previously requested a Christian ceremony but had been denied, since Joy was divorced and the Anglican church forbade remarriage after divorce. The church could not make an exception for Lewis simply because he was famous. With Joy on her deathbed, however, the church felt mercy overruled traditional theology and, on March 21, 1957, they were married before God and the world.
Before long Joy enjoyed a remission of her cancer that appeared to be miraculous: Lewis had prayed to God that her pain would be transferred to him, and soon her cancer receded while he was stricken with osteoporosis. "I was losing calcium just about as fast as Joy was gaining it," he wrote in November, "a bargain (if it was one) for which I am very thankful."
Jack and Joy, he now just past 60, she in her early 40s, had three truly blissful years together. They worked wonderfully together, stimulating each other's minds. She encouraged and helped him write Till We Have Faces, his finest work of fiction, The Four Loves, and Reflections on the Psalms, his first theological work in eight years. He helped her with Smoke on the Mountain, a treatment of the Ten Commandments that is still in print.
She brought a woman's touch to a house that had not been decorated, or even kept up, in 30 years of bachelor residence, and the Kilns became a scene of domestic charm and gaiety. Warnie, in a position one would have thought would make him jealous and resentful, as some of Lewis's other friends were, welcomed Joy, and loved her. Jack and Joy entertained friends and enjoyed a mutual happiness that was both a surprise and delight to all who saw them. "Jack and I are managing to be surprisingly happy considering the circumstances," she wrote to Chad Walsh; "you'd think we were a honeymoon couple in our early twenties, rather than our middle-aged selves." Without question, these were the happiest and most contented years of Lewis's life. "I never expected to have, in my sixties, the joy that passed me by in my twenties," he said.
A most charming incident in the movie ~ and a true one ~ is when the newlyweds traveled to a country inn. Upon arriving, Lewis was so nervous he panicked on the telephone while ordering drinks from room service, and ordered a drink he did not like. In a volume of Lewis' letters is this confession, made to a correspondent in America: "I'm such a confirmed old bachelor that I couldn't help feeling I was being rather naughty ('Staying with a woman at a hotel!' Just like people in the newspapers!)"
After her death he would recall, "For those few years H. and I feasted on love; every mode of it ~ solemn and merry, romantic and realistic, sometimes as dramatic as a thunderstorm, sometimes as comfortable and unemphatic as putting on your soft slippers. No cranny of heart or body remained unsatisfied."
Lewis lived in a land far removed from the McCarthyism and blaring horns of a barbaric America, in an era now known more for its golden oldies than for its golden thought. Yet it was he who became the Christian faith's most gallant knight warring against the forces of skepticism, agnosticism, and unbelief. No thinker, no writer, no preacher has ever brought the complexities of Christianity to a level of such simplicity and, most of all, logic, as this Oxford don who was born before the century began and who died on the same day ~ November 22, 1963 ~ on which John F. Kennedy was shot. He became, and remains to this day, the most popular spokesman for Christianity the world has ever known.
It was at their first meeting that Vanauken "saw and heard, both at table and at the semicircle by the fire in the common room as the port went round, the Lewis who, in brilliance, in wit, and in incisiveness, could hold his own with any man that ever lived."

C.S. Lewis: "Then Aslan turned to them and said: '...you are ~ as you used to call it in the Shadowlands ~ dead. The term is over: the holidays have begun. The dream is ended: this is the morning...'
"And for us this is the end of all the stories, and we can most truly say that they all lived happily ever after. But for them it was only the beginning of the real story. All their life in this world and all their adventures in Narnin had only been the cover and the title page: now at last they were beginning Chapter One of the Great Story which no one on earth has read: which goes on for ever: in which every chapter is better than the one before."

© 2006 Henry Zecher

* * * * * * * * *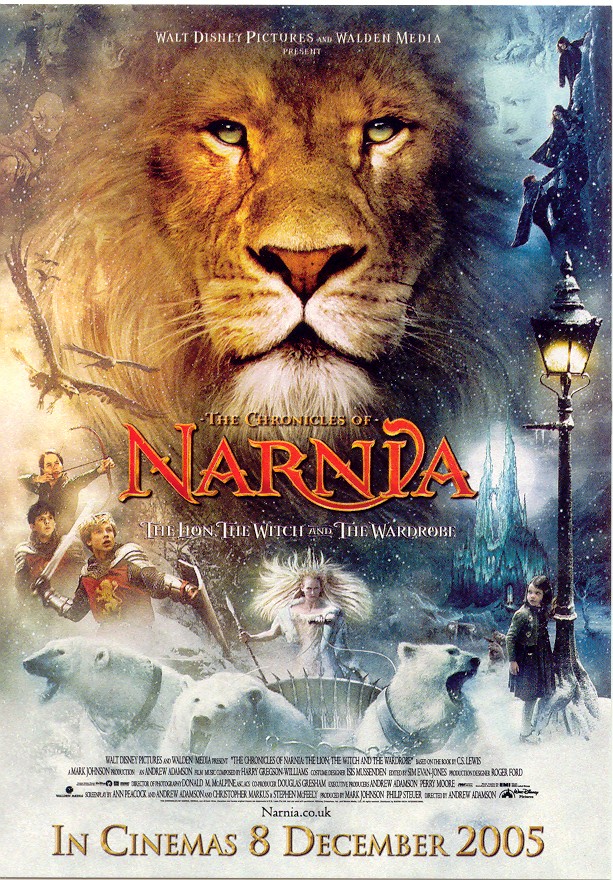 In 2005, Walt Disney Pictures, with distribution by Buena Vista Pictures Distribution and production by the C.S. Lewis Company and Walden Media, released The Chronicles of Narnia: The Lion, the Witch and the Wardrobe, to world-wide acclaim. Filmed on location in New Zealand, the Czech Republic, and London, England, and directed by Andrew Adamson (Shrek and Shrek 2), the film opened on December 9, and grossed $247,777,824 in its first five weeks.
This review by marthahashagen (movies profile) December 9, 2005, was the most fun ~

My dear Wormwood:
How did this movie get by us and into theatres? I thought we'd been relieved of C.S. Lewis years ago! This story has the mark of The Enemy all over it and is to be taken very, very seriously!
All we can do is remind the patient as he watches this movie that virtues such as courage, and valor, and altruism are only fit for children and children's movies. Mention to the patient that in the "Real World" (his own euphemism for greed and lust and laziness and all sorts of transgressions against The Enemy) such virtue is laughable, even "cute", and very, very childish!
We're going to have a fight on our hands with this one. It doesn't help that the acting was excellent, the children were great and the animation was superior. Where did they get that lion? Oh, well ~ we can't win them all. After he sees the film, remind the patient of his last income tax return and he'll be ours once again.
Yours affectionately,
Screwtape

[Color print of C.S. Lewis provided by Historical Reproductions ~ www.historicprints.com ]

[ Home ] [ Book Signing ] [ Slide Show Presentation ] [ Contact Mr. Zecher ] [ Martin Luther ] [ Bing Crosby ] [ Draculean Theory ] [ Gillette Short Bio ] [ Good Sheperd ] [ Grandfather Clock ] [ People Will Come! ] [ Plagues ] [ Purchase Book ] [ Tom Dunn ] [ Zecher Short Bio ] [ Sherlock Holmes ] [ Papyrus Ipuwer ] [ Hugs ] [ George Burns ] [ Gay's Tub Couple Cartoon ] [ C. S. Lewis ] [ Selected Bibliography ]