By Henry Zecher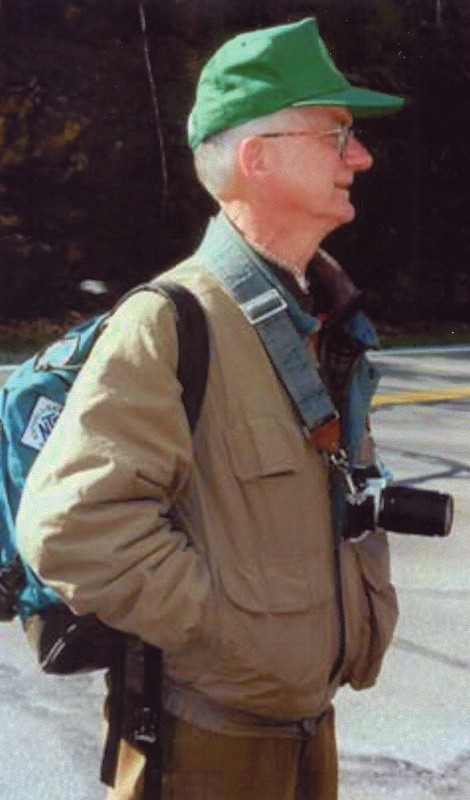 Frank Sinatra had his Harry James.
I had my Tom Dunn.
In 1939, James ~ one of the Swing Era's most popular bandleaders ~ hired a skinny young vocalist from Hoboken, New Jersey, to front his band. When the singer received a better offer from Tommy Dorsey, James tore their contract up and wished him the best. Twenty years later, that skinny young vocalist was the Chairman of the Board, and remains so to this day. When James died in 1983, Sinatra told daughter Nancy, "He made it all possible."
Tom Dunn did that for me.
He was not only a very special man to so many people, he made one of my greatest dreams come true: the publication of my first book. My parents, who educated me, and Tom Dunn are the reasons you are even looking at this website.
I never met him, although I still have his always-charming correspondence ~ hand-written in a usually illegible script on post cards, sometimes a typed note, occasionally a letter on his own letterhead. Although highly private, famous among his following for keeping "a low profile," Tom was no recluse, and his following extended around the globe. No man I ever heard of was loved by so many yet seen by so few.
This reclusive and elusive lightning that so many had tried for so long to catch in a bottle was actually very active in some circles, particularly the Adirondack Mountain Club and the New York-New Jersey Trail Conference. He had friends but, like William Gillette, he kept them few and close. And, he had many interests. Although described as slight of build, he was a great outdoors man, enjoying hiking, mountain climbing, hunting, cross-country skiing, and gardening. Indoors, he enjoyed photography and reading. Quiet, cerebral, and introspective, he nevertheless impressed all who knew him with his self-effacing, unpretentious humility, and his shyness. He was a sweet man, a wonderful man, ultimately generous and loving.
Through all these years, he maintained his interests in outdoor activities and the world of pipe smoking. The April 2006 Gazette of the Sherlock Holmes Pipe Club of Boston ran an article highlighting his membership in the New York-New Jersey Trail Conference, which the Conference website defines as "a federation of more than 95 hiking clubs and environmental organizations and 10,000 individuals dedicated to building and maintaining marked hiking trails and protecting related open space in the bi-state region."
Constituent clubs in the NYNJTC have a combined membership of more than 100,000 people. As the Gazette recalled:
Some people belong to an organization and are content with just paying their dues and carrying a membership card. Tom Dunn was not one of them. There have been few people who have done as much for the NYNJTC with little acclaim, preferring to quietly work "down in the trenches", where it mattered.

He was always looking for ways to enlist hikers into the ranks of maintainers. If you were new and showed up on one of his scheduled ADK hikes, he'd be sure to get to know you. He'd be sure you enjoyed your hike and tell you about some of the other great places to see in Harriman. His enthusiasm was contagious and before you knew it, you were planning to join him on some project. You'd probably receive free gloves to take home with you, maybe even a pair of pruning shears. I remember Tom buying "baseball" type caps from a vendor down in Atlantic City and then paying a seamstress to sew NYNJTC patches on them, rewards for a job well done. And refreshments? How about cream pies, pastries, soft drinks, even an occasional cold beer? One never knew what would come out of that cooler.

Always extolling the virtues of membership in the NYNJTC, he gave a gift membership to at least one hiker so he could legally become a trail maintainer. His license plate read "NYNJTC" and you could find his car in Harriman two or three times a week.
A webpage for the Knickerbocker Chapter of the Adirondack Mountain Club titled "Tom Dunn: One Happy Hiker," described him this way:
He led countless hikes for the ADK in Harriman over many decades. Probably no one knew the park better and certainly no one was as creative in inventing new routes and in having such a great time doing it.

He'd pepper the Outings Schedule with interesting hikes: a "Six Star Jaunt" climbed five mountains to rack up the starred viewpoints on the Trail Conference map. That worked so well he upped the ante with a "Thirteen Star Day". His "Bee-Line Hike" went as straight as he could make it from Seven Lakes Drive to the Wildcat Bridge using the TMI, WD, WC, RD and Triangle trails, picking up four mountains along the way. Sure enough, next schedule offered "Bee-Line Hike 2". Then there was his Revolutionary War Trails series: three hikes re-tracing the military maneuvers in 1777 and 1779.

His signature event was the Annual White-Bar Trail Maintenance Picnic. Tom was the trail's official maintainer but, a little bit of Tom Sawyer here, he made sure he never worked alone by supplying tools, gloves and always a surprise desert (and a bit upscale from Oreos too!). Long before the days of digital cameras, scanners and e-mail, Tom took a group snapshot of every hike he led and mailed a print to each participant ~ usually within a week!
Yet, it was not for his involvement with the NYNJTC that Tom Dunn was known and loved around the world. Tom was an international icon because he was perhaps the most prominent man in the world of pipe smoking. This was due to his creation in 1964 of the Universal Coterie of Pipe Smokers (TUCOPS, logo at right) to serve as a club for pipe smokers. Along with membership came a pin and a membership card, but membership standards were hardly exacting.
All someone had to do was write to Tom and ask to be put on the mailing list, and he, she or it became an instant member of the Coterie and suddenly enveloped in a highly literate, sophisticated and erudite society. It was also about as informal as a club can get: "There are no dues, no obligations, no meetings, no charter, and none of the usual organizational sets," Tom told us. It was simply an informal club devoted solely to the mutual enjoyment of pipe smoking. "Meetings" were nothing more than a few club members getting together for dinner, drinks, and a few puffs, if they happened to be in the same hemisphere on the same day. Most of them were doing that already, of course, but without a club affiliation to make it look respectable.
His communication to the Coterie came through his equally informal publication, The Pipe Smoker's Ephemeris (TPSE). Described by Sherlockian Peter Blau as "a print version of an electronic bulletin-board," and by a GrayFoxOnLine correspondent as "Pipes and Tobaccos mag on steroids," it was the longest running journal devoted to pipe smoking and related matters in existence, and may well have been the longest-running special-interest magazine ever. Pipe smokers around the world, who otherwise would have never met, discovered each other and formed life-long friendships through its pages.
The TPSE was a compendium of articles, photographs and other miscellany, correspondence and commentary, on pipes, tobacco, books, poems, stories, comic strips, cartoons, old ads, antiques, various pipe-related characters, a selection of members' collecting and other interests along with their addresses. It was filled with interesting illustrations about pipes, tobacco, cigars, smoking, and anything else that interested members of the Coterie.
Devoted to pipe smoking, the TPSE obviously contained items on famous pipe smokers, and any photo, cartoon, or newsy item related to famous pipe smokers might turn up in its pages: Bing Crosby sheet music, photos of Walter Cronkite or Mark Twain or William Conrad or Albert Einstein or Gerald Ford or Greta Garbo or Ernest Hemingway or Andrew Jackson or General MacArthur or Fred MacMurray or Edward G. Robinson and even Queen Victoria.
Obviously, it contained much in the way of information, photographs and cartoons of the most famous pipe smoker of them all, Sherlock Holmes. It thus appealed to many Sherlockians, which was what drew me to it. At least ten of the more than a hundred pages often contained Sherlockiana, with Coterians engaging in S'ian commentary, debate, revelation and pure sharing of the fun.
Whenever members of the Coterie passed on, Tom would mention them under the heading "Broken Pipes."
Along the way, Tom published two bound editions of past issues of the TPSE. Clothbound, with full index and more than 500 pages of back issues, they sold for $50. Book I covered 1965 through 1979. A few months after Tom's death, they were up for auction on Ebay and on sale from second-hand book dealers at prices from $500 on up. Mostly up. And, he issued what he called his TUCOPS Collectors Directory (A Selection of Members' Collecting and Other Interests).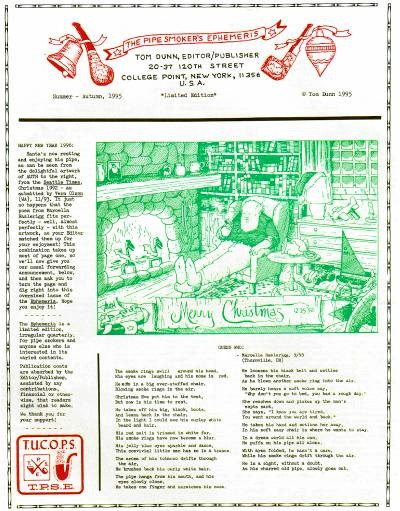 The Ephemeris (right) was often described as "an irregular quarterly" because it appeared very irregularly ~ usually a couple of times a year, at any given month. Thus, it sometimes had to change with the seasons before eventual publication: "Because our spare time was very limited this year," he wrote on the cover of one issue, "it took us longer than usual to complete this issue which has been in preparation for over six months. Thus, it might read 'strange,' as it was written over three seasons. When started, we could have wished you Happy Summer; now we are wishing you Merry Christmas and a Happy New Year."
Since subscription was free, no one complained about the sporadic appearances. In fact, it became one of the TPSE's more charming features, and each issue was eagerly awaited by an ever-growing coterie of readers. Still, they were not without their own senses of humor. Asked by Tom if he found anything unusual about an issue that had just gone out, one reader responded, "Yes! It's finally here!"
The paper-bound Ehemeris was stapled by the publisher, usually containing more than 100 pages, and always neat, clean, and crisply printed. Everything about it, from the contents to the packaging, was quaint and charming. It warmed your heart to read it.
It began life as four mimeographed sheets sent to Tom's immediate circle of friends. As an Ebay listing imagined it, "Little did he realize at that time how popular TPSE would become, how many would contribute to it from all over the world, or the wealth of information that it would contain about all things pipe related."
This was no exaggeration. Forty years after its inception, Tom's little irregular quarterly went out to more than 3,000 recipients around the world, consisting entirely of contributions from its readers ~ articles, letters, post cards, cartoons... anything anybody thought might be of interest. Subscription was free; Tom ~ who always referred to himself as "your editor" ~ paid the expenses himself, but took "any contributions – financial or otherwise – that readers might wish to make."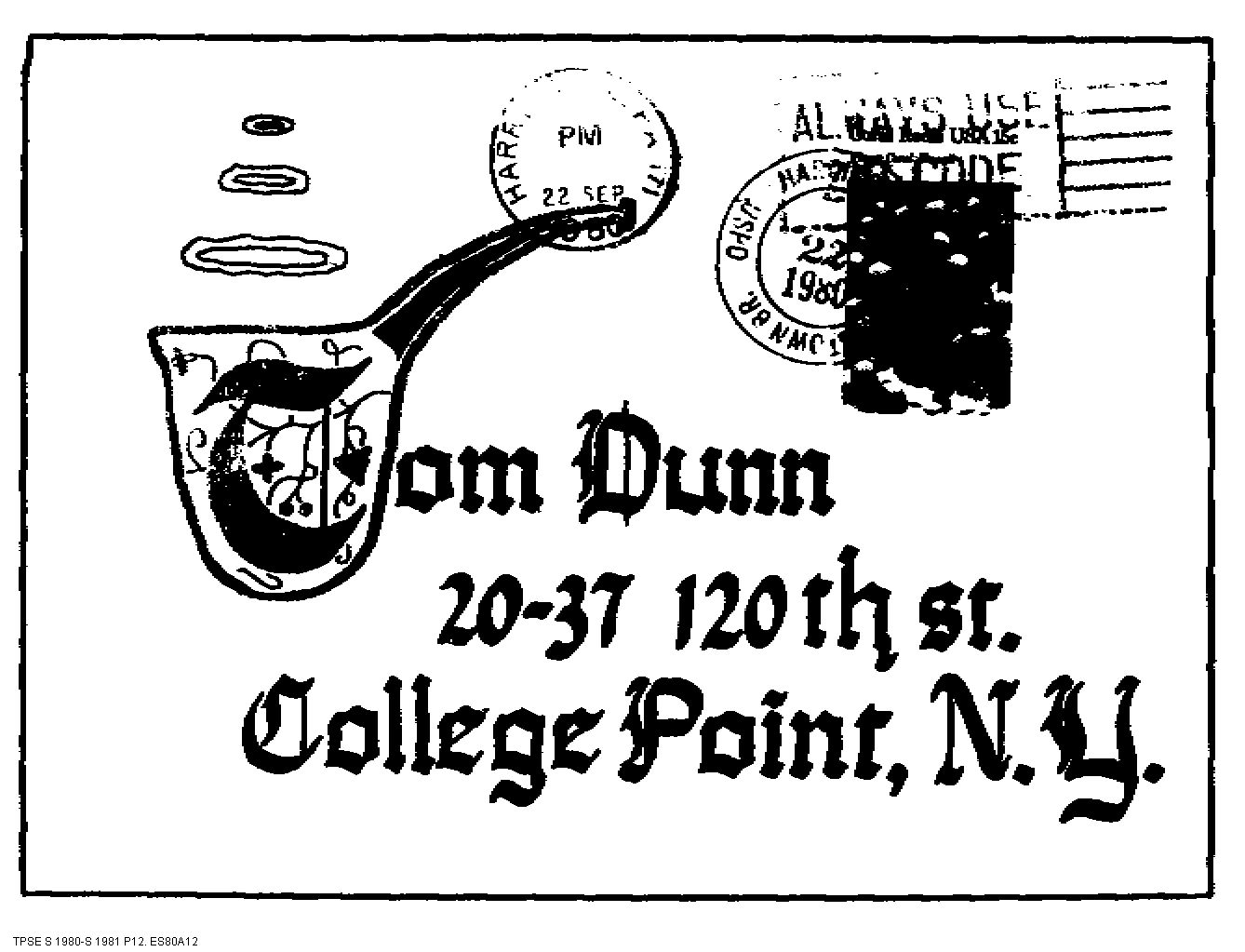 And we did! In addition to monetary contributions, readers sent in pipes (he received hundreds of them), tobacco tins and tobaccos, tampers, cards, photographs, and any other form of miscellany his readers could think of. Some of us, at least once, outlandishly illustrated the envelopes in which we mailed our offerings to him, like the one pictured at right. I sent him money on occasion. Mostly I sent him cartoons, notes, and articles. Particularly articles.
I began receiving the Ephemeris in the early 1990s, and contributed right away. When you are a writer, and you think you're good, and you wake up in the morning thinking of nothing but writing, you want to be read. Following publication of my article on Martin Luther's impact on the English Bible in 1983, I had nothing published for many years, due largely to the fact that I was researching the rewriting of ancient Egyptian history for what was to be my first book, and I did not try my hand at magazine articles again.
Then I found the Ephemeris, a periodical consisting of contributions from the readers, and I jumped right in, doing some of my finest writing for the Ephemeris. Tom published it. I wasn't paid, of course, because the TPSE was a labor of love for its readers as well as for its editor. But, published is published. When Tom ran my tributes to C.S. Lewis and George Burns (both on this website), 3,000 readers around the world read them. The one I enjoyed writing the most, however, and the funniest thing I ever wrote, was a spoof of the Playboy Interview, called "Playguy Interview ~ Tom Dunn, A Candid Conversation with the founder of the Universal Coterie of Pipe Smokers, editor and publisher of the Pipe Smoker's Ephemeris, and the internationally elusive Mr. Nice Guy."
No. 2 son Brian drew three goofy pictures of Tom (at the top of this page), one with the pipe sticking out of his ear, and we set it up in the TPSE exactly as it would look in the pages of Playboy. Obviously, Tom's "reclusiveness" was played up in a humorous way. As Playguy founder and publisher Hugh Heffer himself sets out to trap the elusive publisher, he finds him impossible to find. The initial write-up that precedes all Playguy interviews contained this report:
After weeks of searching for his quarry, Heffer reported back, "I can't believe it. Everybody knows him, everybody likes him, but nobody has seen him. I've met hundreds of people who would like nothing more than to meet him, but no one has. Oh, one elderly woman recalled him mowing her lawn when he was 12 years old, and then smoking it when he was 18. Every now and then someone will report seeing him at a shopping mall in Oklahoma or a carnival in Detroit. It was rumored that he was captured by a UFO. Some said he had married a waitress in Louisiana.

"Pipe smokers, pipe show exhibitors, and even casual correspondents all know him, but as yet they have never seen him. Whenever I asked them why he remains so invisible, I received the same response: 'He keeps a low profile!'

"'Low?' I exclaimed. 'How low is 'low?'

"They just shrugged.

"This began a new line of inquiry. I reasoned that a man who keeps such a low profile must be hiding from something. Was he running from the law? An ex-wife? Was he in a witness protection program? Or was he simply ugly?

"Some photographs of him had been reproduced in the Ephemeris. They reveal a handsome, intelligent, healthy-looking man with a mustache and a pipe. In one picture, taken in 1974, he looked almost like Sir Arthur Conan Doyle. In fact, like Doyle, Dunn is a cross-country skier and quite an outdoorsman."
Heffer then decides that the best way to contact Tom is to place an ad in Tom's own Ephemeris, under the "Studs and Other Dottle" section, and he mails it to Tom at his home address. In the very next issue of the Ephemeris, this appears in Tom's inimitable style:
Hugh Heffer (Chicago, Illinois) appears to be trying to locate your editor for some purpose known only to Mr. Heffer. Perhaps he wishes your editor to pose for his centerfold. Or, perhaps, he wishes to swap a bunny for some pipe tobacco. Intriguing, don't you think? Perhaps some of you Coterians may have a suggestion for Mr. Heffer on how to find your editor. If so, we will print them in the next issue.
And on it goes. Heffer, of course, deduces that, if his ad has reached Tom Dunn at Dunn's home address, then he might find the elusive editor and publisher there as well, and he does. The subsequent interview, which delighted Tom and appeared in the Summer 1994/Spring 1995 Ephemeris, received quite a lot of responses from readers.
One in particular, Albert Mendez of Flushing, New York, wrote to "Hugh Heffer" at Playguy Magazine, care of my address. Mr. Mendez "complained" of not receiving his Playguy lifetime subscription, traditionally delivered by the Playdate of the Month, and he had expected the Playdate for August 1966, Jo Kollins, to deliver his subscription where he was stationed with the "3055th Mess Kit Repair Facility (Provisional) at Phu Yuk," in Vietnam. Mr. Mendez said he was no longer angry that Ms. Kollins had delivered his lifetime subscription to "that lieutenant in the 173d Airborne Bde."
Regarding the never-seen Thomas Allan Dunn, Mr. Mendez added, "This elusive and easy-going editor of the eclectic Ephemeris effectually emerges from the entrevue eloquently embellished as an embodiment of eccentric and energetic enterprise. I think.
"What emerges from your interview is less than a myth, but more than a man, and one is irresistibly reminded of the equally-enigmatic fireman/artist David Kalimanis (creator of the immortal 'food invoice' cycle) and his haunting lines: 'When the throbbing of the mighty city subsides/And malodorous rivulets wash away/Lingering retinal images of serpentine blue smoke."'
I'm sure Tom was honored by the comparison.
Mendez continued, "You may be interested to know that I once actually saw Thomas A. Dunn. Actually, it was his leg ~ he was pulling it into a taxi after him. I called out to him, but the door slammed and the cab sped off into the haze-shrouded approaches of the Queensborough Bridge."
You do not let a letter like that go unanswered.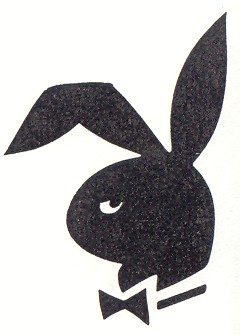 In the guise of the "Executive Editor" of Playguy, who was now answering 30 years worth of mail that the always lustfully busy Hugh Heffer had stuffed under his bed, I informed Mr. Mendez that the Playdate of the Month for August 1966 (Jo Kollins) would, indeed, deliver his lifetime subscription to him at the 3055th Mess Kit Repair Facility (Provisional) at Phu Yuk, in Vietnam, as soon as she was able to use her new walker. I also informed Mr. Mendez that "your's is not the only response we have received, one letter besides your own having already poured in from a reader claiming to have seen Mr. Dunn's leg being pulled into a flying saucer as it took off from the lower east side."
Tom ran both letters, side by side on opposite pages in the next issue of the Ephemeris, with this note to us both: "Good show, gentlemen!!"
And, occasionally, not to let his readers have all the fun, Tom inserted his own sense of humor into an issue. His Summer 1999-Winter 2000 issue contained this greeting:
We were going to seize this opportunity to wish you a Happy New Millennium because it's such a rare opportunity, but we felt sure that there would be those who would "get technical" on us and remind us that ~ in fact ~ the New Millennium doesn't begin until January 1, 2001. On second thought, we're going to say it anyway: Happy New Millennium! So there!
In 1996 I sent him my three-part series, "Sherlock Holmes and the 21st Century," which was an overview of the entire Holmes phenomenon and a look at his place in this oncoming technological age (See Sherlock Holmes link on this website). Many readers enjoyed this, and years later I still receive requests for copies of it. But, more than that, I discovered William Gillette (right), and went on to send Tom a seven-part series on Gillette. This, too, was well-received by the readers and, in researching it I took the photographs that ended up in a one-hour slide program that has become a major hit in the Sherlockian world. When the program was booked to premier in the 1998 Sherlock Holmes/William Gillette Festival in Tryon, North Carolina, festival founder Jerry Soderquist advertised me as the author of a "book" on Gillette. I reminded Jerry that I had not written a book, only a magazine series.
He didn't miss a beat: "Well, you better write one!"
So, I did.
Ben Rapaport, who knew Tom Dunn personally, eulogized him in the pages of the Spring 2006 issue of Pipes & Tobacco Magazine. Nothing is more revealing of Tom's international significance than the fact that portions of this article were quoted in periodicals, newsletters and websites around the world.
Commenting on Tom's reclusiveness, Rapaport noted that "It is hard to comprehend that although his name and fame are world renowned, on a personal level, he was close to very few of his dedicated following. He avoided the limelight, shunned public appearances and was a reluctant celebrity who declined honors and awards for his good works. Two examples suffice. In 1988, three years after the International Academy of the Pipe was founded in Paris, Tom was nominated and inducted as the first American 'Membre Correspondant.' Although appreciative of the recognition, he informed the Academy that he would never participate in the annual convocations. In 1998, the Chicago Pipe Collectors Club selected him as one of the first two recipients of its lifetime achievement award, the degree of 'Doctor of Pipes.' Tom did not attend the ceremony. Hence, it is somewhat paradoxical that so many loyal followers never met him. Yet to one and all, Tom Dunn has been a household name for close to half a century."
And, his graciousness reached out in spite of his shyness. "I never met Tom Dunn, never talked to him, never even subscribed to the Ephemeris (although I do own a few copies)," Nelson Pidgeon wrote in the January 2006 Gazette of the Sherlock Holmes Pipe Club of Boston. "But I've heard from or read the words of those who have, and in every case it has been nothing but the highest of praise, respect and admiration for this man. Tom was the heartbeat of the pipe smoking community and kept the spirit of a declining pastime alive and well through his founding of the Universal Coterie of Pipe Smokers from which he expertly produced the well know periodical The Pipe Smoker's Ephemeris."
Why he never subscribed to the Ephemeris, Pidgeon confessed, was that "I had my own idea of what to expect from a personally produce magazine but I have to say that I missed the mark by a long shot. When a clubmate of mine gave me a few copies of the Ephemeris that he had finished reading, I couldn't get over the quality and professionalism of Tom's work. This small online newsletter of ours takes a fair amount of time to put out, but it's all online, no printing, binding or mailing is required. Tom's Ephemeris, which started out at mere eight pages back in 1964, has blossomed into a full fledged black and white magazine often consisting of more than one hundred pages. The Ephemeris contains stories sent in by readers from all over the globe about anything pipe related and ranging from pipe humor, anecdotes and personal stories to pipe show reports and interesting facts, history and artwork. He put it all together himself, printing, binding and mailing for whatever donation you could afford to send, but would send you a copy anyway if you couldn't afford one. This was part of my dilemma in subscribing. Before I saw a copy of the Ephemeris I didn't know what to expect and didn't know what type of donation to offer. After I saw a copy of the Ephemeris I never thought what I had to offer was enough and I'm sorry I procrastinated so long."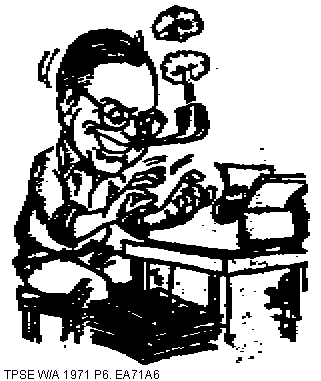 One of Tom's charming idiosyncracies was regarding computers. He did not have one until the end of the 1990s. The TPSE was put together entirely by hand, cutting and pasting the parts on each of the more than one hundred pages each issue contained. He had no email address to which we could write (for the very same reason humorist Dave Barry's email is unlisted ~ he could never read them all); so all correspondence was by snail-mail.
Tom usually had editor's notes accompanying contributions from the readers. When he published my article on C.S. Lewis following release of the hit film Shadowlands, he prefaced it with this all-too-typical introduction:
Henry Zecher (Rockville, MD), 1/94 delighted us with this note: "I don't know if you are interested, but the new movie Shadowlands is out about the great love between C. S. Lewis and Joy Gresham, Lewis was a pipe smoker, and one of the leading intellectuals of the millennium. I have written this article in case you are interested in running it..." [FD: Our pleasure, Henry: We appreciate, too, your including the disk on Word Perfect 5.1 – had a friend, John Gould of L.I., run it darker, using Times New Roman Bold 11 pt., and he included the artwork, too. Your Editor will take the blame for the last-minute corrections by hand!]
Finally, at the dawn of the 21st century, Tom got with the 21st century and began using a computer. It made the job easier, but didn't shorten it by much. Rapaport described the process by which each issue of the TPSE was put out:
His modus operandi was, if you please, akin to that of running a 'Mom and Pop' grocery store...without the Mom. He assembled material in assorted piles, topically, until there was a sufficient amount of significantly useful information for an issue; he collated, scanned, typed, edited (where necessary), reproduced, laid out and proofed a camera-ready copy that he sent to the printer in Pittsfield, Mass. When it was ready, he traveled the 380-mile round-trip to retrieve it; he hand-wrote the address labels, adding a personal note to some ~ not all ~ copies of the issue and stuffed and sealed the envelopes. He sorted them by ZIP code and bundled them in accordance with the mandates of the U.S. Postal Service Guide for bulk mailers ~ as many as 300 bags or more. Finally, he trucked all the bags to the local bulk mail facility, where they were weighed and paid for out of his USPS account. Tom said the cycle from receipt of TSPE to delivery to the post office consumed at least one week. That, readers, was Tom Dunn, a modern man of modern means who was really an old-fashioned, free-spirited ~ but very focused ~ hands-on, do-it-yourself guy.
Tom was to me, as he was to thousands, a friend by correspondence but in the heart as well. He was delighted, and expressed that delight, when Gay and I finally found each other, and he rejoiced in our marriage in 2003. He was also delighted ~ he actually sounded proud ~ with my account, in that year's Christmas letter, of No. 1 Son Quentin's heroics in the Baltimore Harbor at the beginning of March 2004, when he was one of the first rescuers to reach the overturned water taxi. (If you want to read about that tragedy, just type the name "Henry Zecher" in any search engine, and three quarters of the hits will be for Henry Quentin Zecher, Utilityman 3rd Class, United States Naval Reserve, and his role in the rescue.)
Every milestone of my life from 1992 until 2005 was acknowledged with a congratulatory card, usually written in hand-writing nearly impossible to decipher, from the world's favorite uncle. Then, on September 1, 2005, Tom wrote his last letter to the Coterie:
Next year, 2006, marks the 42nd Anniversary of THE UNIVERSAL COTERIE OF PIPE SMOKERS (TUCOPS). It will also mark the cessation of both the Coterie and its journal, The Pipe Smoker's Ephemeris (TPSE).

Effective immediately, we are no longer accepting new members into the Coterie and are not accepting any submissions for publication. However, we do plan to organize and publish as much of the voluminous backlog of material that we already have on hand, as possible.

As some Coterians already know, your Editor was diagnosed with cancer in November 2004. Major surgery in January 2005 failed to cure the condition, but subsequently – after an aggressive 3 mos. regimen of chemotherapy – the cancer was brought under control. Now three months later, the cancer shows signs of renewed growth, necessitating further chemotherapy. One of the side effects of this treatment is our reduced energy level, which has prompted the above decision.

In 2006, we hope to complete and publish one or two more issues of the Ephemeris. We also then hope to be able to advise you of the disposition of the Coterie's archives and collections.

Meanwhile we are seizing this opportunity to enclose – quite prematurely – our 2005 Santa-with-Pipe holiday greeting postcard – the last of this series – and to extend our sincere thanks for all your support and contributions over all these years.

Yours faithfully,

Tom
Two months later, he was gone.
Pipes & Tobacco Magazine featured him on the cover of its Spring 2006 issue, with the tribute by Rapaport gracing its pages. In the only other form of tribute authorized by the family of the man who prized his privacy and would never accept honors, the Chicagoland International Pipe & Tobacciana Show in May 2006 was dedicated to his memory. There, show patrons saw a table exhibit containing photographs, personal items that had belonged to him, and information about him. Visitors signed a dedication book and wrote short notes, the book to be presented to the family. A friend of Tom's gave a short talk about his life at the Friday evening Welcome Dinner.
Pipes and paraphernalia from his collection were sold at auction and on Ebay. As he had been an avid collector and international correspondent regarding all things tobacciana, his extensive library was donated to the University of Alabama.
I had so badly wanted to meet Tom, a feeling that felt shared with half the population of the planet. I told him that in a letter before he died. Having received his last letter, I wrote to tell him how I regretted never having met him, but to thank him ever so much for all he had done for me, and to tell him how very much I had enjoyed the Ephemeris and his friendship.
At the close of my 2005 Christmas letter ~ a letter he never lived to receive ~ I told him that my wife and I were praying for him. Afterwards, I found out from a niece that he had died.
Perhaps Albert Mendez, although his tongue was stuck all the way through his cheek at the time, described him best as "less than a myth, but more than a man..."
He was.
Annales 2005, no. 18 of the Académie Internationale de la Pipe, published in Paris, quoted some of Rapaport's article, including the tribute: "A Man for all (Pipe-Smoking) seasons."
"The pipe-world has lost one of its greatest men," noted RÖKRINGAR (Smoke Rings), published by the Pipe Club of Sweden.
To all of us, our friendship with Tom was personal, even though the vast majority of us never laid eyes on him. The ADK-NYC Hiker webpage added, "Tom was a lot of fun ~ spirited and easy going at the same time. He made you feel like you were being challenged and achieving something, even on level ground."
The Piperack in Rochester Hills, Michigan, described him as "a selfless and continual contributor to our hobby, and he will be sorely missed."
"Tom always disavowed icon status," Rapaport noted, "but he was nonetheless revered, and though now lost to us, his name will be ever etched in our memory. His singular contribution to the pipe world will not easily dim or fade."
And, as the Sherlock Holmes Pipe Club of Boston put it, "He will be missed, but I know he will not be forgotten. Too many people have been touched by his kindness, generosity, and enthusiasm. We'll feel his presence on the trails, the invisible hiker in our midst."
From the European website Fajka.org:
"Niech spoczywa w spokoju!
(May he rest in peace!)"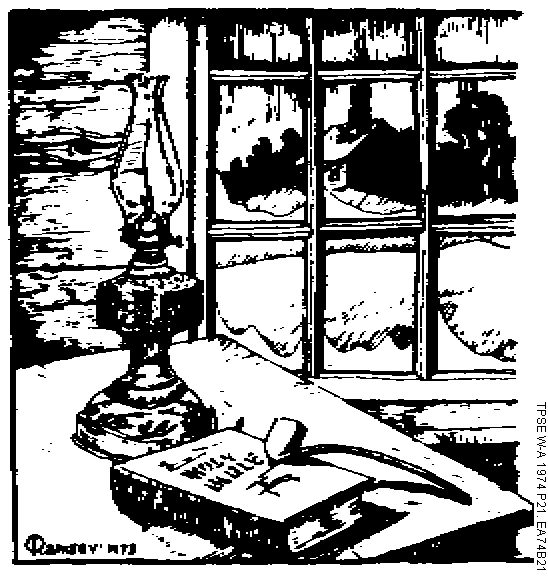 Thomas Allan Dunn
September 15, 1938 ~ December 11, 2005
Unpublished work © 2006 Henry Zecher
Photo of Tom Dunn hiking uphill courtesy of Spence Waters of the Adirondack Mountain Club http://www.adk-nyc.org
B&W illustrations are from the pages of The Pipe Smoker's Ephemeris.
Sketches of Tom Dunn at the head of this page were drawn by Brian Zecher.
Illustration of the Playguy Bunny was drawn by the author.