Year of the Book~
William Gillette, America's Sherlock Holmes Draws Great Reviews
Scholarship, writing style continually praised
Gillette Biography Had a Great 2011
Book signings, slide show presentations, big hits
Hollywood Sign Girl Interview
James Zeruk conducts Henry's first "on-line" interview
Kindle Author Interview
Kindle Author David Wisehart interviews Henry
Eerie Digest Interview
The Eerie Digest intervies Henry along with other writers
Podcast ~ I hear of Sherlock Everywhere
Scott Monty interviews Henry on well-received podcast interview
Other Published Work ~
Martin Luther
His German Bible shaped the King James Version
C.S. Lewis
Hit film Shadowlands tells his love story
Sherlock Holmes
Will the world's greatest detective survive the 21st century?
Papyrus Ipuwer
Is this an Egyptian version of the Plagues?
George Burns
The world's best-loved cigar smoker takes his final bow
Grandfather's Clock
How the world's best loved clock got its name
The Draculean System of Criminal Justice ~
Would Count Dracula's system of impalement work today?
William Gillette, America's Sherlock Holmes -- Selected Bibliography
Unpublished Work ~
Bing Crosby
Shaped American popular culture and 20th century entertainment
Rewriting History
The Old Testament is accurate history after all
People Will Come!
Field of Dreams was the ultimate baseball film
Tom Dunn
He made all this possible!
Hugs
A big warm fuzzy from Henry
<![if !vml]><![endif]>
<![if !vml]><![endif]>
 

Wife Gay runs
A New Perspective ~
Art & Soul, Inc., color
cartoons and
primitive scented
candles

<![if !vml]>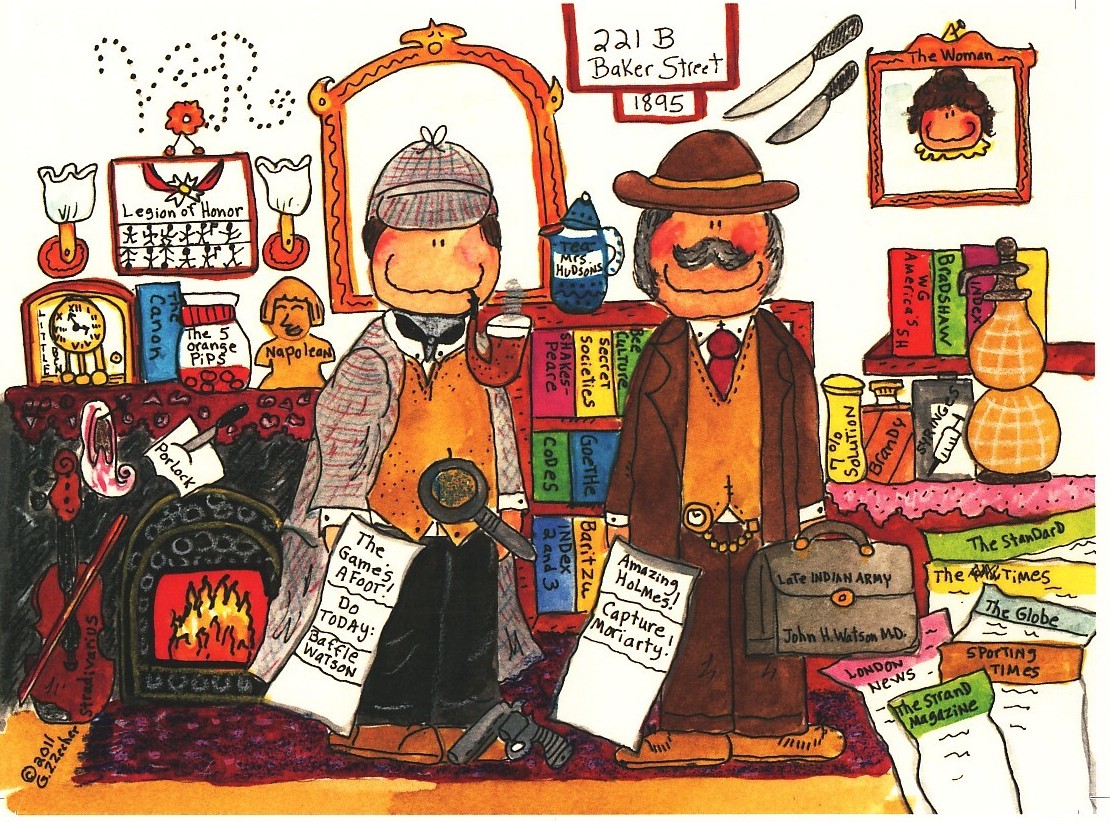 <![endif]>

 Here is the perfect gift for the Sherlockian in your life!
Personalized by artist Gay Zurich with information about the recipient!
Price ~
$9.99 matted.  $12.49 double matted. $19.99 framed.
Order through Paypal using hwz@artandsoulinc.com
Please provide the following personalizing information:
Name for Holmes figure.
Name for Watson figure.
Name for The Woman.
Name of scion society.
List of two things "To Do" for Holmes.
List of two things "To Do" for Watson.
Click on any pic to see it larger